Social media is changing the way we communicate and the way we are perceived, both positively and negatively. Every time you post a photo, or update your status, you are contributing to your own digital footprint and personal brand – Amy Jo Martin
The Mind Research Foundation in collaboration with Rotary Chandigarh Mid-Town carried out multiple awareness sessions on the 9th August and 22nd August , 2017 on the topic " Social Media and Its Influence".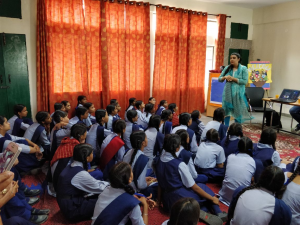 The talk was initiated so as to make children aware of the various platforms of social media and their corresponding effects on the lives of children. In today's tech savvy milieu, the enormous influence of social media cannot be gainsaid. Though it has its advantages, social media has its own share of perils; often targeting the adolescent population. Hence, the awareness program was initiated to make children capable, by thrusting them with the right knowledge and tools to protect themselves from succumbing to the adverse consequences of using social media.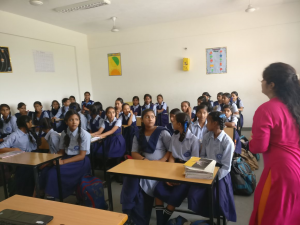 The participants in the first two sessions were 60 girls of class 6th, 7th and 8th from Government High School, Sector 48, and Government High School, Sector 49, Chandigarh. The third and fourth session consisted of 50 girls primarily of 6th and 7th classes, in Government High School, Mauli Jagran and 40 girls of class 6th, 7th, 8th and 9th classes, in Government Model School, Raipur Kalan, Chandigarh.
The main areas that were covered were:
• Meaning, modes of social media;
• A glimpse into the present situation
• Online predators and Cyberbullying
• Upward Social Comparisons
• Perils of Social Media usage – loneliness, addiction, social reputation
• Why Can't We Stop?
• Being Safe – Ways to Protect Oneself in case of cyber-bullying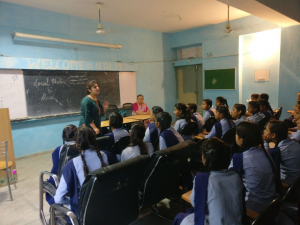 The sessions began with an interactive discussion about social media and the current reality. It was followed by a presentation that covered the above mentioned topics. The sessions also explored the questions which the children raised like weighing the pros and cons of social media, identity of the predators; what to do in certain situations etc. Issues pertaining to maintaining safety and establishing boundaries related to privacy on various social media apps, were discussed with the participants. The children were not only aware but were successful in answering questions pertaining to current issues like that of blue whale game, morphed pictures etc.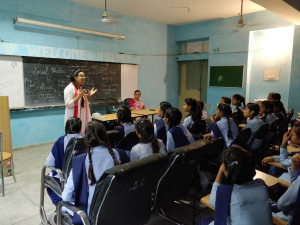 The high level of awareness helped us in making them better understand the course of actions that they could take in case of certain difficult situations.
A general observation and overall feedback reflected high levels of comprehension and interest; which was corroborated by various nods, personal questions after the session and gratitude of the school authorities.