Mind Masters: 2 day Summer Program with T S central State Library,
Chandigarh
The
Mind Research Foundation in collaboration with T S Central State Library, Chandigarh conducted a 2 day summer program for children on 4th and 5th June, 2018
.
The major aim behind all the activities conducted by The Mind Research Foundation during the workshop was to make children aware of their emotions. When we teach kids to recognize and cope with their emotions, we give them imperative tools to traverse life. Emotion regulation is about training kids to detect and identify emotions, achieve awareness of the concerns underlying diverse feelings, and come up with a strategy to either deal with those matters or acquire operative ways to accept circumstances they can't alter. This gives them a sense of confidence and resiliency towards in not just understanding complicated and stressful circumstances of the future but also, making them enjoy the present by being aware and accepting of all emotions without judging themselves or others.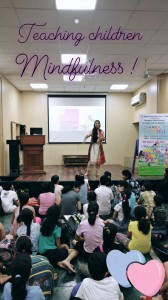 Keeping in mind the current scenario, children have diverse stimuli with which they could engage, hence, unable to develop a deeper connection with oneself and the surroundings. Activities like mindful breathing, creating a happy place, understanding happiness, empathy, gratitude, having a connection with oneself and so on becomes imperative. This was a small step taken by the organization to teach children some of the fundamentals of emotions and making them learn basic acceptance of the same.