Resilience Support Group for Adolescents 
Why We Do It?
It's the best of times; it's the worst of times. Any individual who has experienced pre-adulthood would know it's anything but a period of balance. From wild hormonal swings to the revelation of sexual delight and questions about one's self-esteem, young people are defenseless against a scope of clashing feelings.
The pressures of everyday life for teenagers are increasing day by day. Be it the school or social media, they are required to cope up with multiple distractions and in the process, they are meeting their potential half-way. This leads to:
1. Low grades and average academic performance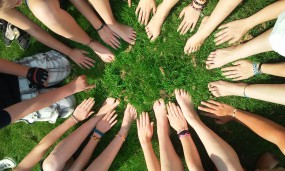 2. Emotional and behavioural issues                                                  
3. Lack of Communication
4. Lack of concentration and forgetfulness
5.  Social media mismanagement and so on. 
What we Do?
Our program will help children who are unable to reach their full potential. The organization is working on making kids to have better coping skills for the upcoming pressures of life. Our trained facilitators are using age-appropriate curriculum to establish peer support groups in the centers.
The program is based on our 4 guiding principles:
1. Neuroplasticity: It is the capacity of neurons and neural networks in the brain to change their connections and behavior in response to new information. Neuroplasticity affirms the ability to strengthen and increase our brainpower.
2. Positive Psychology : Well-being is about having the skills that you need for day-to-day life. Principles of Positive Psychology enable individuals and communities to thrive; a belief that people want to lead meaningful and fulfilling lives, to cultivate what is best within themselves, and to enhance their experiences of love, work, and play.
3. Thought Centric approach: The ultimate goal of the organization has been to promote overall health and well-being of the person in order to prevent any illnesses and to have an enhanced life. The interventions developed and applied are not tailored towards treating a condition but are designed to foster healthy emotions, attitudes, behaviors and habits. It aims to improve quality of life, overall health, dealing with and being resilient towards minor to major stressors in one's life.
4.  Mindful Awareness: Mindfulness is the simple human skill to be fully present, conscious of where one is and what one is doing, and not excessively reactive or astounded by what is happening around one. Dr. Langer, Our associate and is described as the "mother of mindfulness" is one of the early pioneers in the study of mindfulness, which she describes as "the simple act of noticing new things." Just thinking about now and being in now by using all our senses rather than regretting the past or worrying about the future gives us the ability to be mindful.
Who we cater to?
The program is for all children from all economic, racial, ethnic, and religious backgrounds. The age range for groups are:
Group 1: 7-12 years       Group 2: 13-17 years               Group 3: 18-21 years
How we do it?
The idea of a support group is to provide a nonjudgmental place where you can come and talk about your feelings and hear other people talk about theirs. A lot of times it really helps to hear that other people have been through what you're going through.
The Mind Research Foundation offers a convenient and safe place for teens to connect, share stories and encourage each other with the help of a trained facilitator. Positive social support is a critical component to developing into a healthy adult. While connecting, the facilitator would introduce the curriculum which will be in a form of a workbook  which needs to be completed and various tools and techniques would be learnt in the process.
Members of our teen support group have access to the latest in social network technology including a dedicated forum and chat room. In addition, members can participate in the larger wellness challenge through our inspirational wellness tools — Mood mapping, Mindfulness application an so on.
We will help your children to:
Reach their full potential
Develop and strengthen problem-solving skills                                                  
Appropriate behavior and anger management
Improve school attendance and academic performance
Understand emotions
Improve communication in their families
Reduce the likelihood of destructive behavior 
We will help you with:
Get regular updates on Parenting and Parenting Styles to manage your children better.
 Be a part of Parenting Seminars and Parenting Group Discussion held online to understand more about parenting problems and how to mange the same.
Get invited to Events, Voluntary Assignments, Parent Group Discussions and be eligible to participate.
 Get introduced to Parents who share similar problems and have an opportunity to discuss and share your thoughts anonymously.
Become a part of more than 10,000 people who trust and support us in our efforts.
Fee:
About the Foundation
The Mind Research Foundation was established with a commitment to create a positive impact in the society by directing people towards recognising the importance of Behavioural Health, normalizing conversations and facilitating de-stigmatization of Behavioural Health. Our endeavour is to encourage those living with Behavioural health conditions to get the help they need, and ensure those who need help or are vulnerable have access to excellent support, acceptance, and resources they deserve."
The Mind Research Foundation has established itself as a Leader in evidence-based behavioural health treatments. The organization has also progressively made its mark in the Global Behavioural Healthcare space by focusing on filling the gap between Neuroscience, Positive Psychology and Healthcare and unyielding dedication towards research, discovery, application and advancement of clinical solutions for the prevention, diagnosis and treatment of a multitude of psychological and psychosomatic ailments.
The MRF Team feels passionately about the limitless potential of the brain ; and has seen first-hand the positive impact of "thought centric" approach towards thought care interventions. Embarking on the journey of exploring neuroscience, positive psychology, mindful awareness training and it's impact physically and emotionally on human beings with a special emphasis on children, led the founder's on a larger quest, that is " to improve the overall state of well-being of people be it in personal or work settings"
The Mind Research Foundation Team provides clinical excellence and support to individuals who require interventions for a wide spectrum of Behavioural health conditions that affect thinking, behaviour human interactions and much more. Each client at our center receives an up-close-and-personal, thorough assessment by our highly qualified and capable consultants, ensuring diagnostic accuracy through psychological evaluation, Behavioural work-up and clinical observation. Our clinical team is made up of compassionate, highly experienced professionals trained in a wide variety of therapeutic modalities and approaches employing them to all meet the needs of each individual client. The MRF Team always aims at going above and beyond to give our clients the best possible opportunity to transform their lives and heal inside out!